Before all else, I want to attune you to
Terry Sanderson
's upcoming
Marlene Dietrich
tribute at London's Conway Hall on September 7-8.
Visit his site devoted to the show
! If you've attended any of Sanderson's past Marlene tributes, please share your experience in the comments section.
Now, I'll tackle my wishlist! While searching online catalogs of libraries, museums, and archives, I find myself coveting countless Marlene-related items. By giving these materials exposure here, I hope that I can somehow access them. Even if I can't, I'll be satisfied with making some of you aware of these things so that you can explore them yourselves.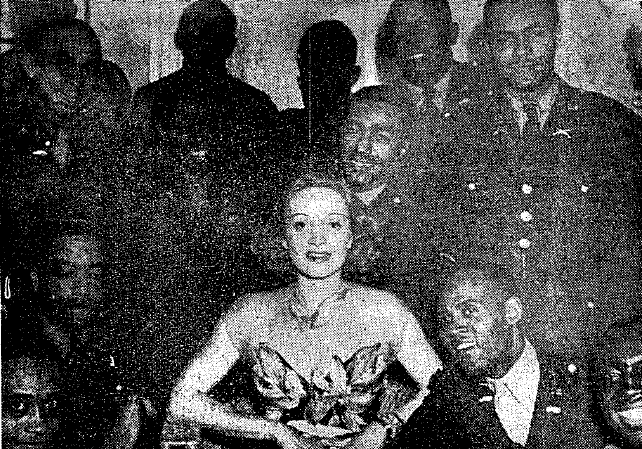 Marlene Dietrich w/
614th Tank Destroyer Battalion officers.
Recognize the dress?
First, I want a better-quality version of this photograph, in which Dietrich brings cheer in Germany to officers of the
614th Tank Destroyer Battalion
, apparently one of the few Black (or--for search engine optimization purposes--African-American) tank destroyer units and also the first Black unit to receive a Distinguished Unit Citation. I'm only certain that this photo appeared in the May 26, 1945 issue of the influential Black newspaper,
Chicago Defender
; in the May 19 issue, an article describes how Dietrich dined with the troops, sang "Lili Marlene," and shook hands with the mess sergeant for cooking a yummy meal. I surmise, though, that the image lies in an archive somewhere because it's from the
U.S. Signal Corps
. Do tell me whether you know more or whether other publications have printed it.
In case you're interested in war history,
TankDestroyer.net
has rounded up several informative resources on the 614th TD Battalion. I also encountered a more colloquial but equally fascinating page that mentions Dietrich and the 614th troops at WWII vet
Pierce Evans' site
. You may be particularly drawn to his page with
a photo of Marlene's leg
.
There's that dress!
Photographed by Scotty Welbourne.
(photo from here)
For the eagle-eyed among you, the dress that Marlene's wearing is one of her '40s staples (also, it's pastel, according to the May 19, 1945 issue of
Chicago Defender
), and I can trace it to a photo shoot she did with photographer
Scotty Welbourne
. When was this shoot? I assumed it was for 1941's
Manpower
because Welbourne became the
photography department head of Warner Bros.
, the studio that produced this Dietrich movie. The
1st U.S. edition of Alexander Walker's Dietrich
, however, features an alternate shot on the dust jacket and dates it to 1940. As if I couldn't be any more clueless, I want to know who designed the dress.
Irene
? The cut looks similar to another one that Marlene wore throughout the '40s, which you can see at a link I know I've shared
ad nauseam
here--
the FIDM Museum blog
.
Now, for the other item on my August wishlist, which piqued my interest while I was digging through the
U.S. National Archives
catalog:
I want to hear Marlene's
German version of "I'll Never Smile Again,"
one of my favorite classic pop standards in English--obviously thanks to the cool crooning of
Frank Sinatra
. As you may notice, Dietrich recorded a German version of "South American Way." To hear that, listen no further than
marlenedietrichTV
!