***See photos of the auction exhibition here or here***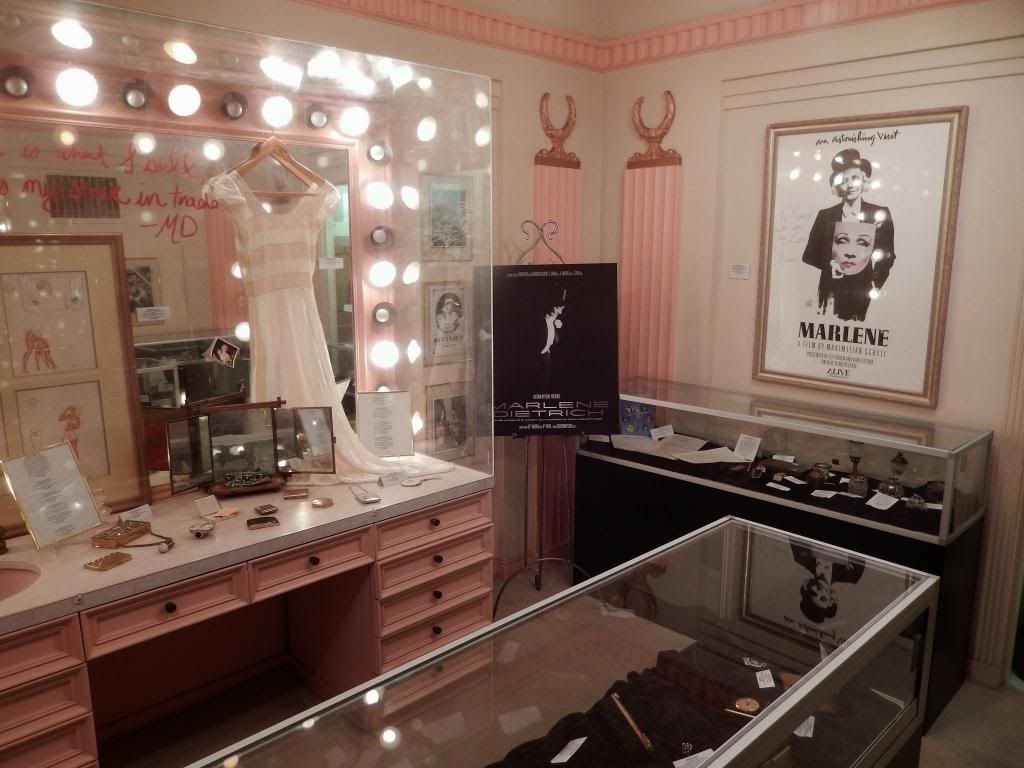 For some, spring cleaning means tossing that can of tuna six months past its "best by" date. For the heirs of
Marlene Dietrich
, it means holding an auction! Helping the "new online auction service for Art, Antiques and Collectables Auctions,"
Auction My Stuff
, launch its site,
"Marlene Dietrich: The World's Most Glamorous Grandmother"
is billed as including property from
J. David Riva
,
J. Michael Riva
, and
J. Paul Riva
. That leaves out one of Dietrich's grandsons, which I leave for you to cogitate. In fact, I'm still pondering the matter, especially after great-grandson
J. Matthew Riva
surmised that "Massy would not approve"
on the Last Goddess Facebook page
.
Although I have been unable to identify anything "thence by descent" to Paul in the auction descriptions, I have noticed plenty of items belonging to David and Michael, which include clocks, lighters, publicity photographs, posters, compacts, artwork, and handwritten documents. I'm trying hard to forget the
fishing creel
that served to hold maggots and other live bait! This is not a matter of one man's trash being another man's treasure, though. David told me that it was hard to give up many of the items and that the object he will miss most is
the music box
, which was the first valuable object in Marlene's apartment that he was allowed to touch as a child.
All snark aside, I have found David and the Auction My Stuff staff gracious in responding to my questions and requests. Most of all, the choice to curate many of the auction items in
an exhibition at the Hollywood Museum
, which you can view until April 6, thrilled me because I may never see any of the items, having already been outbid on the ones that appealed most to me and because it is--correct me if I'm wrong--the first Marlene Dietrich exhibition in the Los Angeles area since
the "Forever Young" exhibition
held over a decade ago. Thank you, David, for returning Marlene to Hollywood--even if it is only for a little while! I took photos of the exhibition, which you can see
here
or
here
, but I hope as many of you as possible have the opportunity to see the exhibition in-person. The Bouche poster is jaw-dropping in its scale! Seeing personal items not up for auction, such as a photos of Marlene in full stage regalia posing with David and
Maria Riva
, was an added bonus.
Naturally, some of the items up for auction made me raise an eyebrow. I asked myself questions such as "Why do I care that Marlene Dietrich gave this as a gift to someone?" and "What do these items have to do with Dietrich?" Even though some objects are tangentially related to Marlene, they do inspire topics that interest me. Comparing the modest yet elegant pieces that once belonged to
Jane Riva
, the Rivas' paternal grandmother, to the sometimes ostentatious objects once owned by Marlene Dietrich, the Rivas' maternal grandmother, I realized that the Rivas must have had two very different experiences of what a grandmother could be. The auction also brought to my attention two people who David told me were close to Marlene and the family as well as his godparents
--Jerome and Sydna Scott Thor
. It occurred to me when I searched their names that Jerome is in
Marlene Dietrich Adressbuch
, yet another reminder that there were so many people in Marlene's life whom I overlook and who are worth researching further.
While viewing the online auction and the exhibition, I noticed documents such as Marlene's 1949 Decca contract and a call sheet for
The Scarlet Empress
that were a valuable historical testament of her career and could potentially add to the research value of
Marlene Dietrich Collection Berlin
. Thankfully, David has confirmed that MDCB will get copies. The auction had a rocky start with
hatchet job press from Daily Mail
and technical issues that slightly delayed the Auction My Stuff site launch, but I prefer to focus instead on the informative
BBC coverage
and exhibition with the hope that future Marlene Dietrich auctions lead to more discoveries and more museum displays.
--Joseph
***See photos of the auction exhibition here or here***