Andrea Palma, La mujer del puerto, 1934


Marlene Dietrich has influenced
sundry entertainers
, but I never knew that she became an archetypal performer within less than five years after her Hollywood debut, inspiring a fellow emigrant named Andrea Palma to transition from obscure milliner to iconic Mexican actress. I may be a smidge illiterate because I fail to notice in either Steven Bach or Maria Riva's tomes any mention of Palma.
Born Guadalupe Bracho in 1903 from a good Durango family, Andrea Palma was the cousin of two other famous Mexican stars, Dolores del Rio and Ramon Novarro, and the sister of director Julio Bracho (if you read Spanish, check out the biographical chronicle that informs this post,
Los Bracho: tres generaciones de cine mexicano
, by Jesus Ibarra). Of course, we're familiar with the dolorously gorgeous del Rio, whose beauty Dietrich admired (
that
Maria did confirm in her book). Even though I'd rather swim with the fishes than fantasize about them, I'm aware that some of you may find it titillating to imagine del Rio attending those mythical
sewing circle
shindigs.
Certainly, it wouldn't be fair to let del Rio upstage this post when the spotlight should fall on Palma. Growing up in Mexico City, Palma studied millinery and helped support her family with her skills, making her first hat sale at the age of 17. According to Ibarra, Ramon Novarro invited the teenaged Palma to stay in Hollywood for a few months. Despite respecting her father's wishes by not visiting any movie studios, Palma was bit by the acting bug. Back in Mexico City, Palma designed hats for theater actors, parlaying her connections to practice her nascent acting prowess onstage.
Eventually, Palma returned to Hollywood, but she never quite abandoned her first career. In fact, her stage name harked back to it, "Andrea" from the hat shop she had opened--called Casa Andrea--and "Palma" from Calle Palma--the street on which the hat shop La Ciudad de Londres, her former employer, was located. Furthermore, Palma used her hat-making skills to develop a relationship with Dietrich.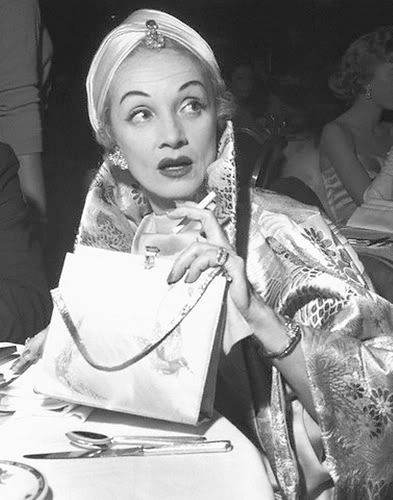 A quinquagenarian Dietrich in a Dior turban,
which did suit her, especially in this famous photo
If Ibarra's account is true, Dietrich expressed doubt in the ability of North Americans to make hats and told Palma that only turbans suited her. Either Dietrich had spent too much time around the gringos or Ibarra had never seen Marlene strut in a
top hat
or swipe an
officer's cap
because Palma supposedly convinced her that any hat would complement her face. When Dietrich borrowed Palma's beret, she liked it and commissioned six more hats from Palma, who apparently became
Dietrich's personal milliner during the filming of Blonde Venus
(see the "Miscellaneous Crew" section) as well as a personal assistant of sorts who handled Dietrich's makeup.
Is that you in there, Andrea?
Wikipedia editors also purport that
Palma was Dietrich's stunt double
, and although Palma lumbering in the gorilla suit would make for thrilling trivia, I can't find any sources that confirm this. If Maria Riva never mentioned her, I would guess that her home confinement during the Lindbergh copycat kidnapping scare prevented her from meeting Palma, who may have only maintained a professional bond with Dietrich. Thus, I'm only left to wonder whether these hats were Palma's designs:
flophouse floozy
|
maternal kept girl
|
stage sargeant
Soon after her behind-the-scenes role in
Blonde Venus
, Palma returned to Mexico, where an opportunity arose that echoed Dietrich's ascent to fame in
The Blue Angel
. The Russian director, Arcady Boytler, could not find an actress who fit the type he had in mind for his film,
La mujer del puerto
(
The Woman of the Port
). Until he saw Palma in a movie reel. Less convinced was Boytler's assistant director, Rafael J. Sevilla, and Palma had to prove herself by filming a screen test. Sounds familiar, doesn't it?
Aside from biographical similarities, Ibarra mentioned that Palma imitated Dietrich's appearance and voice in her first starring film role, and Palma's recollections indicate that she spent her time in Hollywood--and around Dietrich--like an apt pupil. In
Vino todo el pueblo: Notes on Monsiváis, Mexican Movies and Movie-Going
, Andrea Noble quoted Palma (via de la Vega's
Arcady Boytler, 1893-1965
) as saying that she absorbed every detail--from walking, to false eyelashes, to proper camera angles. Palma even adopted Dietrich's practice of checking herself in a mirror while filming scenes. If you're still dubious, take a look at
this 1935 newspaper article
, which also credited Dietrich as Palma's cinematic sensei.
Thanks to YouTube, you can watch the results of Palma's Hollywood "schooling" in the film that started it all,
La mujer del puerto
. My apologies for the lack of subtitles, but you can at least read
a synopsis
and appreciate the visuals:
To say that
La mujer del puerto
evoked the fallen woman's tale of
Blonde Venus
would diminish its shocking impact. Dietrich may have played prostitutes, but her characters never matched the depravity of Palma's Rosario, who committed incest. Compared to
Guy de Maupassant's "Le port,"
the literature that inspired Dietrich's films was indeed "weak lemonade." Even the camp value of Boytler and Palma's collaboration challenged Sternberg and Dietrich's oeuvres. Forget raining on parades! The confetti and streamers that congested the
Dishonored
party scene were abruptly obfuscated by a funeral in
La mujer del puerto
(see
this scene
).
In spite of similarities between Dietrich and Palma's poise, Palma's acting style was far less reticent (compare
Rosario's
abandon to
Shanghai Lily's
), and she forwent her beauty for
more natural lighting
. Nevertheless,
Palma's posing
uncannily reflected
Amy Jolly's ennui
, and her
languid gestures, stares, and blinks
could lure men just as
Dietrich's did
. If Dietrich was the laziest gal in Hollywood, Palma must have been
the laziest in Mexico City
, and I would swear I hear her counting her pauses before she uttered her throaty lines.