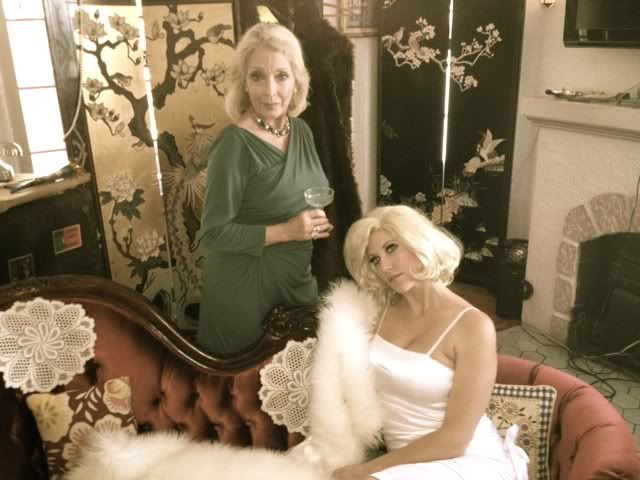 The (soon-to-be) legendary, lovely Victoria Valentino & Ariane Bellamar
You read that right!
Dial 'M' for Marlene
premieres tonight at The Flight Theater, which means you should dial (310) 360-7064 for reservations. Check the
Facebook page
for all the latest updates. Gussie sent me this lovely pre-production photo of
Victoria Valentino
and
Ariane Bellamar
, who will be playing
Marlene Dietrich
and
Marilyn Monroe
respectively. Of course, I'll let you know later whether they play the two respect
fully
. Gussie also gave me lots of insider gossip that's a day (or eight) late and a dollar short, but you'll enjoy it nonetheless:
With two new actresses taking over both leading roles, we are working hard to get everything ready for next Thursday's opening night. Holly Woodlawn has promised to attend, as well as the play's inspiration, Alexis Del Lago. There may be more colorful costumes in the audience than there are on stage.
Marilyn's wig is being created as we speak. It will be made of human hair, which has been dipped in natural spring water and left to dry in the southern California sun (for a more natural look). Authenticity is our goal. Marlene will have a wood-cutting saw nearby, in case she feels inclined to entertain her guests.
Victoria Valentino is training for this part much as Mary Martin prepared for the role of Maria von Trapp. We've strapped weights to her feet so that she may lift them alternately, as she yodels, thereby increasing lung power. Never has an actress in Hollywood been more determined to practice her scales (and it's not even a musical).