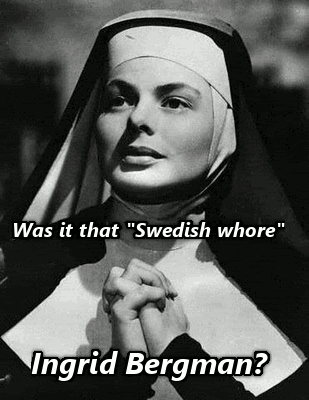 It's been quite a long time since I wrote an entry in this series, but I notice that readers keep finding this blog by searching "maria riva," so I'll take that as a sign that many of you find
Marlene Dietrich
's daughter and her book as interesting as I do. For this blind item, I need your help because I only found one mention of the person in
Maria Riva
's book and am sure I missed previous references. More importantly, you can tell me who the person is because I haven't got a clue!
Maria mentioned that Dietrich's "one-time
Swedish Blonde
" became the target of Swedish media gossip for her alleged drug abuse. According to Maria, Dietrich mailed out amphetamine care packages to the Swedish Blonde, apparently to ensure her friend's happiness and because the Scandinavian junkie would have got her fix from her roomies, "those two fags."
So who was the Swedish Blonde? She certainly wasn't
Ingrid Bergman
. Maria extensively quoted Dietrich's jealousy of Bergman, her suspected rival for
Yul Brynner
's love. Via Maria, we learn that Dietrich called Bergman a "Swedish horse" and "an internationally known whore." Poor Bergman always got crucified for doing publicly what her Hollywood peers were doing privately. Every time I think about the "scandal" between Bergman and
Roberto Rossellini
, I remember a song I used to play from my mom's record collection,
Sophie Tucker
's
"Mister Segal."
Yes, it goes without saying that my mother was a bit of an
Auntie Mame
!
To read my guesses about Maria Riva's other blind items, click here!