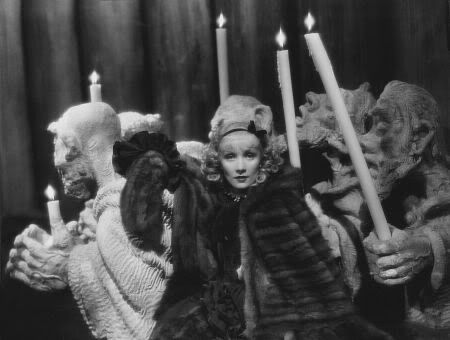 On the
American Film Institute
website, it seems plans to reconstruct its 1998 list of the greatest 100 films of all time are underway. You can be download a copy of the ballot
here
. Among the 400 film titles are
The Scarlett Empress
and
Touch of Evil
!
Since the 1960s, the film industry and media have been reevaluating von Sternberg's works with Dietrich, but with the gradual re-releases on DVD (such as the great Criterion Collection edition of
The Scarlet Empress
), frequent film screenings (including the American Cinematheque's
2005 series
, which I was fortunate to attend), David Riva's
Her Own Song
documentary, Maria Riva's public appearance on Larry King Live, and--of course--Dietrich's own posthumous centennial, the 21st century has seen critics extol the former "Box Office Poison."
AFI
even listed Dietrich at a high #9 on their list of the
50 Greatest Screen Legends
. Now it's time AFI recognize the most incandescent films of its Top 10 screen legend.
Believe me, these aren't merely the views of a Dietrich disciple. A blogger named
Jeffrey Anderson
also suggests the von Sternberg/Dietrich silver screen collaborations as serious contenders. I hope AFI voters share his views the way I do.